FIFA Soccer 10 Review
Title
: FIFA Soccer 10
Platform
:
Xbox 360
. Also available on: PlayStation 3, Wii, DS, PS2 & PSP, PC.
Developer
:
EA Sports Canada
Publisher
:
EA Sports
ESRB Rating
:
E (Everyone)
Favorite Team
: Glasgow Rangers (Scottish Premier League)
Reviewed By
: James A. "fitbabits" Young
Quote:
What's Hot: The on-field action is as great as it was in FIFA 09. The refinements made to FIFA Soccer 10 work for the most part. Martin Tyler and Andy Gray back in the booth, with a little more personality this time. Manager Mode is the best it has ever been.

What's Not: Horrendous performance issues online and with menus. Incremental changes are a little like a kick in the balls after last year's massive improvements.
In the annual battle of the two biggest soccer franchises available (FIFA and PES), last year proved to be a turning point in the fortunes of each. EA Sports' FIFA 09 finally delivered the beautiful game so often promised, while Konami's PES offering could only look on from the reserves and imagine what could have been.
During the build-up to the release of
FIFA Soccer 10
, much has been made of the gulf between last year's respective offerings, and with good reason. It therefore irks me to report that EA Sports has failed to land the decisive blow that would have consigned PES to also-ran status. Does that mean that
FIFA Soccer 10
is a bad game? Far from it. However, it's not as good as it should have been.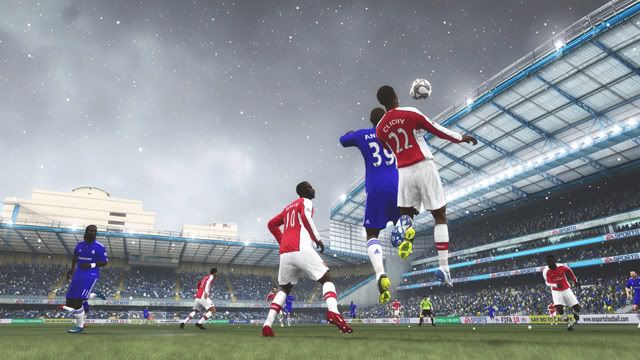 While improvements have been implemented very well to the game engine, it is the presentation and sluggish performance of menus and online disconnects that really let the title down. It can take anywhere from 30 seconds to a full two minutes for the opening menus to appear. To me, this is unacceptable. It is as if that portion of the code was not optimized. Another example of the poor menu performance is evident when making substitutions or tactical changes either pre-game or in-game. It really does dull the excitement factor. Maybe this will be addressed via a patch some time later, but for the moment it really is an unwelcome distraction.
What of online, then? Perhaps the biggest improvement on FIFA 09... There are few things as annoying in a sports game than being disconnected right in the heat of an online battle, yet this appears to be the new norm for
FIFA Soccer 10
. At first I thought my ISP was responsible, but I have since played many other games online and not once been disconnected. Again, another huge letdown, especially when one considers the genius of last year's online offerings.
The action on the pitch remains largely unchanged. While players have more 'weight' to them, the ebb and flow of any given game remains strikingly similar to FIFA 09. As I said, that's not a bad thing in and of itself, but I expected more than just simple refinements.
One welcome improvement is in the goalkeeping department. Sure, keepers still make bone-headed decisions, but they do so in real life also (Manchester City and Glasgow Celtic fans should be all too aware of this). That said, there are less of these here, and good play from forwards or midfielders is often thwarted at the last minute by a combination of great goalkeeping decisions and the inevitable rush of blood on the part of the player. Conversely, cool heads usually prevail in one-on-one situations. Just like the real sport, then.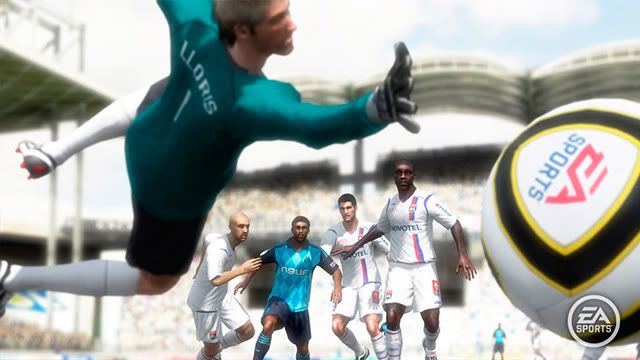 Once again, the team of Martin Tyler and Andy Gray are on commentating duties, and once again they deliver. There are a few too many recycled phrases from both FIFA 09, and even FIFA 08, but overall there are *just* enough improvements to be worthy. Both Tyler and Gray have injected a little more personality into their canned comments, which adds to the immersion on the pitch.
All in all, then, the beautiful game as portrayed by
FIFA Soccer 10
plays
just as good as I had hoped. It is the rest of the package that I feel let down by. Do I recommend buying the game at full price? Absolutely, but with the caveats above.
Score
: 4 out of 5 CoGs
James says:
"If my review seems to be overly critical, it is borne out of frustration. For each and every thing FIFA Soccer 10 gets right, something else, be it the menu performance or online SNAFUs, dulls the experience. EA Sports had the chance to make a statement with FIFA Soccer 10, but it appears the statement being made is that it's okay to coast now that superiority has been fully established."
*Note – Xbox 360 version reviewed.